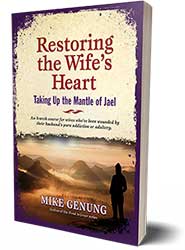 Buy Now: 19.99
Price includes free shipping in US.
About Restoring the Wife's Heart
Judges 4 introduces us to Jael, the wife who brutally took down Sisera, the general of the enemy army. She remained calm in the face of an adversary who was a threat to her and her household.
The wife who is traumatized from her husband's sexual sin must cope with her devastating pain and anger, withstand the frontal assault on her identity as a woman and daughter of God, and fight the invisible battle against an enemy who comes to steal, kill, and destroy, all while keeping her marriage and family together.
While the journey is hard, there is a way through. Healing is found in a safe, praying community of women, and God provides the strength, wisdom, and courage to take down the adversary.
Restoring the Wife's Heart is an 8-week course with 24 assignments that is designed to be worked with another sister in Christ. Topics covered include stepping into your identity as God's beloved daughter, dealing with triggers, cultivating an effective prayer life, setting healthy boundaries, revitalizing your relationship with God, becoming a spiritual warrior, and much more.
Restoring the Wife's Heart is great for use in support groups, or just two women.
Price for paperback, shipped from our office in Italy to the European Community and the UK: S19.95
Available in English. The above price does not include postage. Postage rates from Italy to the European Community and the UK: $10.00 for 8-9 day delivery, $19.50 for 3-4 day delivery.
Dimensions: 7 x 10″ x .460
Net Weight: 10 ounces
Paperback: 184 Pages
Publisher: Blazing Grace Publishing
Published: May 2021
ISBN: 978-1-7323128-4-5
Printed in USA