On My New Book: The Wife's Heart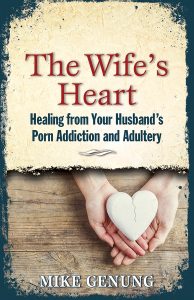 Two months ago we released my newest book, The Wife's Heart, Healing from Your Husband's Porn Addiction and Adultery. The response has been more than I expected, in fact, more than any of my first three books.
The wife often gets left out when it comes to healing a marriage from porn or adultery. All the statistics are on the men and their porn use; when is the last time you heard of a survey of wives who were asked if their husbands were viewing porn? The numbers would probably be higher than the 65% they're showing now.
Most of the recovery groups you hear of focus on helping the men find freedom. It's not that men's groups are wrong, they're badly needed; we need to minister to the spouse as much as we do those who have hurt them. Having wounded my wife years ago with my porn use and adultery, I speak from experience. If she hadn't healed and found her way to forgiving me, our marriage might not have made it.
I hear the words "I have no one else I can talk to," or, "We don't have resources for wives" often. Part of the problem is that the church can be a dangerous place to share your pain or failures, especially when it comes to sex. Just saying the words "sex" or "porn" to most Christians can be enough to cause them to freak out.
Then there's the messed up advice many give: "If you just gave your husband more sex, he wouldn't have this problem… porn is just a part of our world of today… you just need to submit to your husband."
Most weeks we receive more emails from wives than men at Blazing Grace. They describe their pain, confusion, anger, and deep desire to restore their marriage. Their questions include "How do I trust him again?, Who should I tell?, How can I help my husband?, and How can I forgive him?".
The Wife's Heart answers these questions, and many more.
While I provide Biblical tools for coping with a marriage that's been broken by porn and adultery, the book emphasizes the wife's heart. Knowledge and principles aren't enough; just as true freedom from sexual sin must come from your husband's heart, so the Wife's Heart holds the key to yours.